It's coming and it is just around the corner. Already I am hearing the buzz of people talking about the changes being made to the T&T program over the next four years, beginning this Awana year.
When I began in Awana as a leader around 1993, there was no Truth & Training program. It did not exist. I began in Awana serving as a Pal leader. For those who joined Awana during this century, let me explain that the clubs now referenced as Ultimate Adventure were called Pals and Chums. Ultimate Challenge is now the group that used to be Pioneers and Guards. At that time the outcry from clubs was that Awana was "dumbing down" the material, that they made the material harder, that they were caving in to the culture, that they were just out to make money, and more. Some churches dropped Awana, some delayed the change, and many churches began using Awana for the first time. As new churches began Awana, they found success with the Truth & Training program, as many who are reading this have found.
Personally, when the change was made from Pals, Chums, Pioneers, and Guards to the original Truth & Training I had mixed thoughts. I liked the changes to the material, the appearance and how it better related to children. I also liked the content, being more apologetic and theological, explaining what we believed and why. I also felt that the new T&T was harder than the formal material. Even when Awana admitted errors in concept and modified the books to the current books we use today, I felt the books were harder than previously (and still feel as if the current T&T books are difficult for many for various reasons), but I kept that to myself unless someone specifically asked me. I continued to encourage the clubbers as before, to learn about God. I accepted the material and subsequent revisions to the materials, awards, etc.
And here we are today, yet another change to the T&T material and people are asking why.
There are some churches who have clubbers that excel with the current material, while others struggle. Some clubs focus heavily on completing handbooks, others do not. I am already hearing leaders discredit the material having only heard about it or seen samples. Some field test churches had great success, others did not which left a "bad taste in their mouth" and they are sharing that with others. While some see issues if field test churches had "problems", I see it as good because Awana was able to make tweaks from comments received from the many field test churches.
Here are my thoughts about the update and the reaction to it. I welcome the updates for many reasons. I have always shared at conferences and elsewhere that handbook time was the time where you should get to know your clubbers, where you build relationships, but leaders complained that there was not enough time. That time is now focused on building relationships. The large group lesson seldom focused on the verses the clubbers were learning because they were never studying the same section, or even book. The new T&T has a common theme and lesson where it all connects. The content of the handbooks and progression through the book is much more conducive and encouraging for children to learn about God. There are some items that I question and I shared one while I was at Awana recently. I am not going to share specifically about the new material since I have not seen it yet. I will share my initial thoughts on the material when I have it in my possession. I look forward to and welcome these updates.
What concerns me is that people are already beginning to make the statements heard when T&T was first introduced. Awana is dumbing down the material, is giving in to culture, is out to make more money, isn't focused on Scripture anymore, this won't work in my club, etc. Similar to the complaints made when the current material was introduced (side note: if Awana had listened to the naysayers then and did not make the change to T&T originally, then people would not be able to "defend" it so much today. Be thankful for that revision from Pals, Chums, Guards, and Pioneers to T&T which helped you reach the children you have using the current T&T material, which is in its current form because of feedback from clubs). In my experience, I find that the people who complain the loudest are those who are most adverse to change. It is difficult to stop something that you are very familiar with for something brand new. Some clubs still have not transitioned from earlier T&T awards, etc., some still call their clubs Pals, Chums, Guards, and Pioneers. Some will delay this change as long as possible to keep the familiar material (I'm not talking about clubs who are using the current materials until they run out to be good stewards of what God has provided them). Let me give you a personal illustration, an object lesson if you will.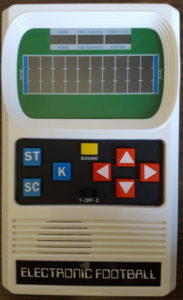 This past Christmas, I bought myself an electronic football game (pictured at right). One I am very familiar with and a game that I enjoy playing. I have never played one of the Madden Football games, or similar. I really have no interest even though the graphics and action are much better, I choose to hold on to that which I am familiar. I can easily teach others how to play, but I can't do that on Madden. I resist that change and I really don't want to give the new game a chance, but do you think that children today will be engaged if all I have to offer is this electronic football game? Should I update to newer games that they relate to better? It is the same for some with these updates to T&T, they long to maintain that which they are comfortable. However, when it comes to the updates to Awana, I leave my "comfort zone" and embrace the changes, though I may not always agree with all of them. We need to be able to relate to children where they are at and with what they are experiencing.
As we prepare to get our hands on the material and for the new year, I would ask you to consider the following:
There is no one "silver bullet ministry method" to reach all children. All curriculum will be tweaked to meet individual needs. There is only one thing that will reach all children and that is the plain, simple, Gospel of Jesus Christ which Awana has not departed from and is still the foundation for all they do and produce.
Awana is a ministry that is reaching out to many children, from the child who has never attended church, nor heard of Jesus (you do still have children bring friends, right?), to the child who is home-schooled in a Christian home being raised "in the church". Awana must develop a common material to be able to reach and challenge both ends of the spectrum and everything in between.
Right now we are "spying out the land" with what we hear and see of the material. I think of the spies Moses sent out to check out and evaluate Jericho. Ten came back with a bad report and spread word among others of fear and dismay, ultimately keeping them from the promised land. Only 2, Joshua and Caleb, came back with a good report, trusting God for what was ahead. What report are you giving, one of fear, or one of hope?
My prayer is that you approach this transition optimistically. Yes there may be things that you do not like, things that you may tweak, and things you may question. I encourage you to contact your local Awana missionary, and/or Awana Customer Service with your genuine concerns and questions after you have reviewed the material for yourself. There is flexibility in how you run your club night and tomorrow I will share some options for you to consider, depending on the makeup of your club, from someone who helped field test the material and has been hosting informational meetings in their area with their local Awana missionary.
For those who haven't yet reviewed the information made available by Awana regarding the update, I encourage you to do so by visiting the T&T update page on the Awana website.